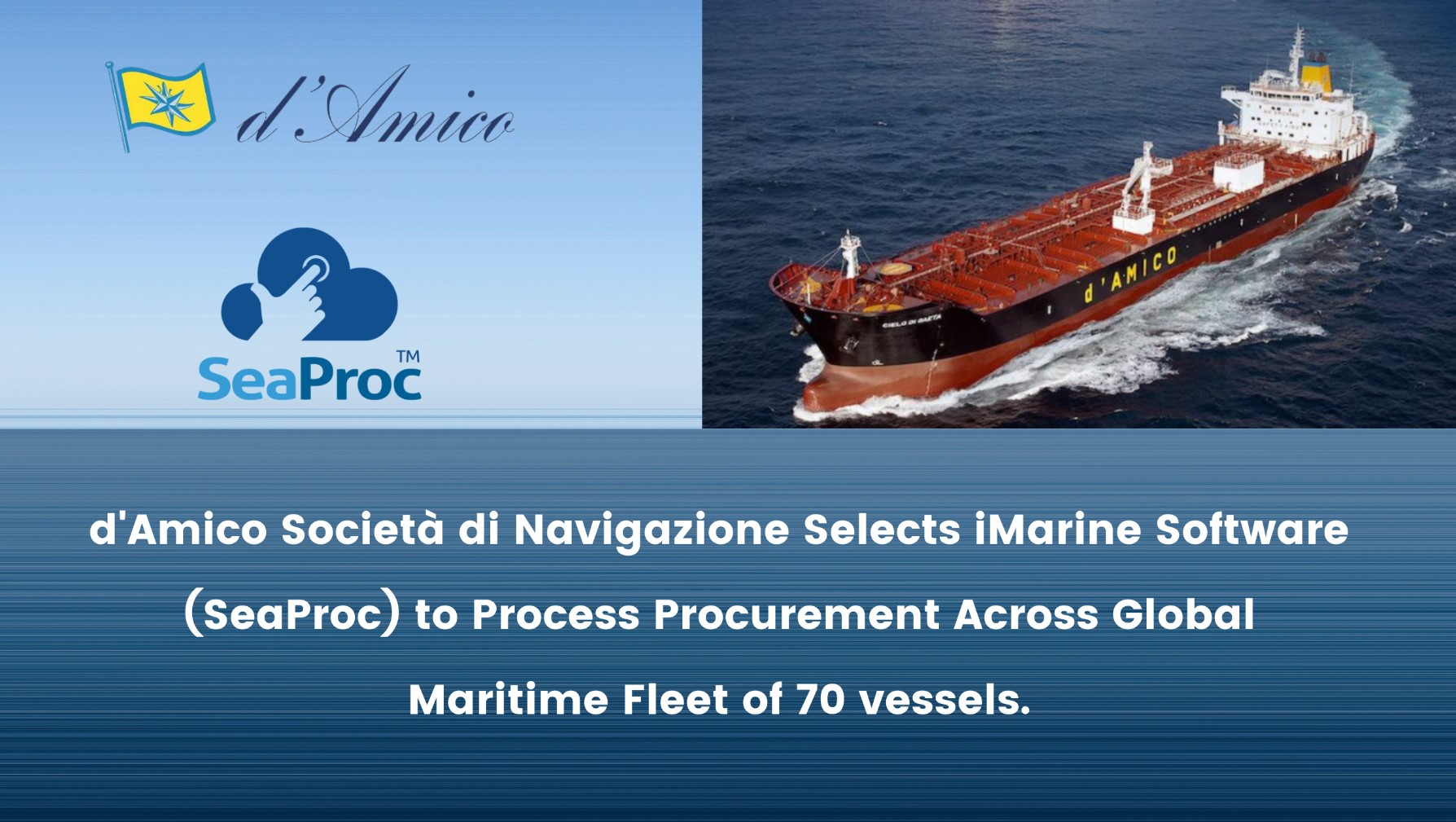 d'Amico Società di Navigazione selects iMarine Software (SeaProc) to process Procurement across Global Maritime Fleet of 70 vessels
New York, May 17, 2021
eProcurement platform SeaProc will provide best-in-class solution for clients
We are pleased to announce that d'Amico Società di Navigazione has entered into an agreement with iMarine Software to provide e-procurement service to its global fleet of 70 vessels. The service will be fully embedded with d'Amico's newly implemented ABS NS Enterprise system, one of the leading Fleet Management Software Systems for Digital Maritime Operations, across its entire fleet of vessels.
The decision is part of an ambitious plan to transition the company to a purely digital transaction model across all shipping operations. Specifically, the SeaProc platform will automate all standard procurement transactions and add electronic invoicing to complete a source-to-settle process fleetwide.
Francesco Leboffe, d'Amico Global Purchasing Manager states:
"We have chosen ABS Nautical Systems in order to implement onboard our fleet, ABS NS Enterprise, one of the leading Fleet Management Software Systems for Digital Maritime Operations. As a group, we are constantly exploring new opportunities to apply digital technologies and deploy analytical tools in the maritime transport sector. The growing trend towards digitization and mobile applications has clearly highlighted the need for a change of applications for Fleet Management. In line with this evolution, the Procurement Department has chosen SeaProc because we do believe that they are able to deliver full connectivity for procurement transactions as well as e-invoicing, and provide a robust and well-integrated platform with suppliers and services providers worldwide."
Peder Arstorp, Chief Commercial Officer, iMarine Software (SeaProc) said:
"We are honored to have been selected by such a well-known and respected name as d'Amico Group for all its vessel assets. Already we are experiencing a high level of coordination and cooperation towards a well-defined plan for achieving full digital footprint. This should ensure that targets are met on time and delivering on significant savings and efficiencies in the supply chain space during the coming months. It is a great privilege to participate as a valued partner in this effort."
About d'Amico Group
d'Amico Group is a leading Italian family-run shipping company operating on a global scale. The core business is focused on the management and operation of dry cargo and product tankers vessels, also providing international shipping services. d'Amico has an advanced technical department made up of highly qualified personnel offering maintenance services on the ships. d'Amico Group has always been committed to its client needs. Operational safety and concern for the environment represent its core values, with the continuing professional development of the team and investment in a substantial state of the art and eco-friendly fleet which are amongst the top priorities. Learn more about d'Amico Group on www.damicoship.com.
About iMarine Software (SeaProc)
Founded in 2012 and incorporated in the USA, the company hosts a Cloud-based e-commerce solution for technical procurement, including RFQ-PO process, e-invoicing, contract management, logistics and catalogue management. Powered by Amazon Web Services, it connects ship operators with over 60,000 vendors globally and provides a uniform platform for managing digital transactions in a scalable and secure environment. The service is backed by a 24/7 Client Services Center that monitors trading and assists users based on an urgent response time policy.
SeaProc is a full-service procurement platform that focuses on maritime, offshore and the power industry. It can be used on standalone basis, or connected to most major vessel management systems via existing adaptors, or to an ERP or corporate procurement system. The platform hosts more than 60,000 vetted suppliers.
Headquarters are in New York, with local offices and representation in Oslo, London, Athens, Singapore, Manila, Taipei and Istanbul. For further information about SeaProc and iMarine Software, please contact sales@imarinesoftware.com
Want to learn more about SeaProc?
Get a full tour and live demo of SeaProc to find out how it can help your business - whether you're a Ship owner or a Parts Supplier.
Sign up for a free demo