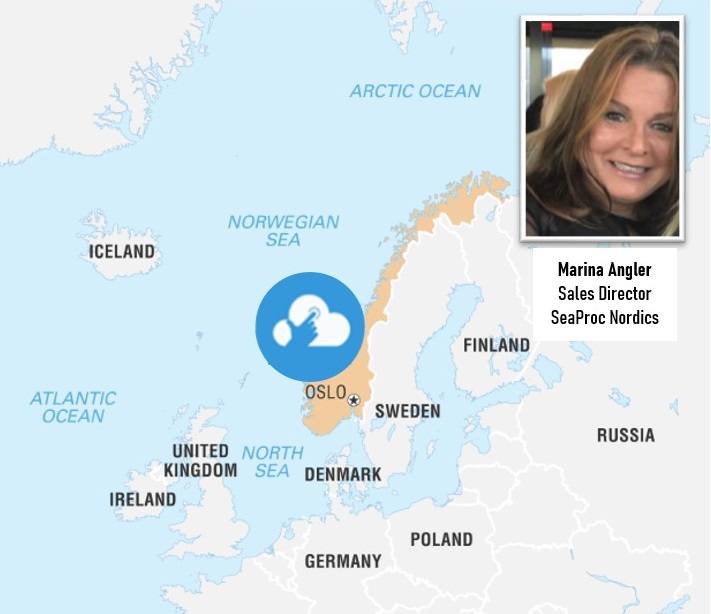 SeaProc launches new office in Oslo, Norway
We are pleased to announce another expansion of our global coverage, and to welcome Marina Angler to our team of maritime procurement professionals. Having an office in Oslo, the capital of Norway, is central to our service capabilities in the Nordic market, home to hundreds of shipping companies and suppliers.
Marina Angler is an experienced Sales Manager with a demonstrated history of working in the Maritime industry. Skilled in Sales, Satellite Communication, Mobile Communications, Charts and Navigation, and E-learning systems.
She has 25 years experience and an impressing network in the international maritime market. Marina's network is both on the ship-owner and the supplier side, along with long relationship as an accepted supplier to the Incentra organization (www.incentra.no). Marina is also a proud and active member of WISTA (www.wista.net) - an organization for women in shipping with members all over the world - both ship-owners and suppliers.
She is a dedicated sales professional with a strategic and commercial mindset and the ability to lead complex sales processes. A driving force on strategic projects within the maritime segment and a relationship builder with key players.
SeaProc is a source-to-receive cloud procurement solution powered by Amazon Web Services. SeaProc connects ship operators with over 50,000 vendors globally and provides a unified platform for managing and monitoring technical trading, contract management, e-invoicing, logistics, business reporting and trading rule management in a scalable and secure environment. The service is backed by a 24/7 support hub that monitors trading and assists users based on urgent response time policy. iMarine Software has offices in New York, Istanbul, Hamburg, Rabat, Singapore, Manila, Taipei, Athens and Oslo.
For further information about SeaProc and iMarine Software, please contact Sales@seaproc.com.
To contact Marina Angler directly:
SeaProc
Evolve
Nedre Slottsgate 15
0157 Oslo, Norway
marina.angler@seaproc.com
marina.angler@imarinesoftware.com
+47 97699168
Want to learn more about SeaProc?
Get a full tour and live demo of SeaProc to find out how it can help your business - whether you're a Ship owner or a Parts Supplier.
Sign up for a free demo