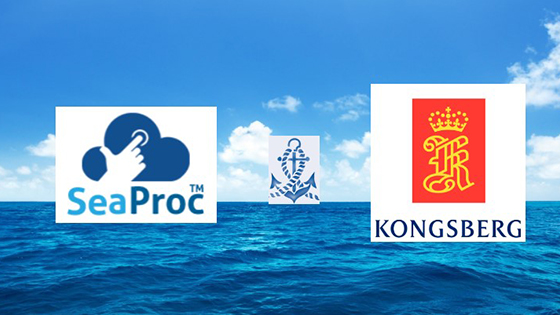 Kongsberg and iMarine Software announce partnership. SeaProc e-Procurement now integrated with K-Fleet Vessel Management Solution.
New York, USA – December 17, 2018
KONGSBERG, one of the oldest and most respected names in shipping, have delivered Fleet Management solutions to the maritime industry for more than 30 years. K-Fleet offers a wide variety of solutions to optimize and assist users' working processes within planned maintenance, inventory management, procurement, QSE, documentation, forms, certificates, voyage reporting and fleet operations.
K-Fleet Purchase ensures the availability of spare parts on board and enables cost efficiency and operational robustness by being constantly updated. It offers one of the easiest purchasing processes available and features an overview of all vessel inventories and full order history with search and copy facilities. It also provides digital supplier catalogues, spare part management and formalized purchasing routines.
With the announcement of full integration between the SeaProc e-procurement platform and Kongsberg K-Fleet Purchase, buyers now enjoy significant speed, accuracy and ease in handling transactions. Requests for Quote, Quotations, Purchase Orders, Contracts, Invoicing and Delivery Receipts are directly interfaced. This allows buyers to conduct all their daily activities within the K-Fleet procurement system as all communications, transactions and negotiations can be handled internally.
About iMarine Software
iMarine Software developed and manages SeaProc, a source-to-receive cloud procurement solution powered by Amazon Web Services. SeaProc connects ship operators with over 50,000 vendors globally and provides a unified platform for managing and monitoring technical trading, contract management, e-invoicing, logistics, business reporting and trading rule management in a scalable and secure environment. The service is backed by a 24/7 support hub that monitors trading and assists users based on urgent response time policy.
For further information about SeaProc and iMarine, please contact Sales@seaproc.com
Want to learn more about SeaProc?
Get a full tour and live demo of SeaProc to find out how it can help your business - whether you're a Ship owner or a Parts Supplier.
Sign up for a free demo